Lisa Frank Locks
This past week was spent in San Diego, visiting family and friends, and working on a little something special that will be coming to our blog very soon. But we also got our hair done by our beloved stylist and all-around amazing woman, Kristina Dunn.
We like to put these photos up here for all of you to take a look at and hopefully read a little bit about, as we get sooooo many questions about our hair, stylist and colors every single day.
First things first - let's start with the transformation!
Both of us haven't seen Kristina since the end of December, so it's been about 4 months since we've had fresh color. We also use color-preserving products (which will be listed below) to keep our vivid locks lasting as long as possible.
Right before we go to see Kristina for fresh color, we use clarifying shampoo to try and rinse out as much of the color as possible so that Kristina has a blank canvas to work with (or as blank as possible). The less lightening that needs to be done, the better... so getting the leftover color out is a major help! Nick's hair was really grown out and still fairly red, so here's Jenna's "before" since it's far more dramatic.
What you're seeing is unwashed, frizzy hair that had just been taken out of a messy bun. It might look unhealthy from this viewpoint, but I can assure you it's not! Just dirty and not styled by any means. I hadn't had a haircut in almost 4 months so the ends did definitely need some freshening up. Now onto the coloring...
Kristina uses Pulp Riot color to create our palette. Each color is custom mixed (using an array of other Pulp Riot to achieve each vivid) which is what makes our end result that much more amazing and unique. No client ever walks out with the exact look of another! She really does make us feel like magical unicorns when we're in her chair. By the way, did I mention she does BOTH OF OUR HAIR AT THE SAME TIME?! This woman is incredible!
We don't. We leave it all up to Kristina. After all.. she's the artist! She knows what's up and coming. She knows the newest techniques and hippest methods. She knows (and sometimes has unreleased product of) the latest and greatest color groupings. It's all up to her! Of course, she does ask us what we're liking, how we feel about this and that, etc.
Nick knew he wanted to stick with red but let Kristina take the wheel in order to maybe add something new into the mix, and really give it flair. She immediately suggested charcoal into deep red, which Nick was very stoked on.
I'm always a bit tricker, as I've got more to work with when it comes to creating a really incredible look with length! I wanted to head in a different direction then just sticking with all pink this time around. I've been pink for almost a full year and because I have so. much. hair. I was desperately wanting some length chopped off (as it's miserably hot in Los Angeles during the summer). I showed Kristina some photos of different colors I was loving - really focusing on a sunset-y type look and she ran with that. Depending upon the base she has to work with, she can determine what tones she's able to achieve without having to lighten or damage my hair. THAT'S why it's so healthy! She takes great care to make sure neither Nick or I have over-processed, unhealthy locks. She's been doing this for years, so she knows best - I never recommend trying to do this kind of thing yourself because you could end up really ruining your hair, or even ending up losing it.
Anywho, this is where Kristina took me... all the way to Lisa Frank town and my inner 8 year old self is squealing with sheer delight over it! Welcome to my favorite look she's every created (which I say every time she does my hair but seriously, I LOVE IT SO MUCH) and I just can't get enough of those mustard and peach tones!
Have we answered all your hair questions? Leave anything else you want to ask in the comments below and we'll be sure to get back to you!
If you care to read our past posts about our colorful noggins, or just want to see photos of all the shades we've been, click the buttons below.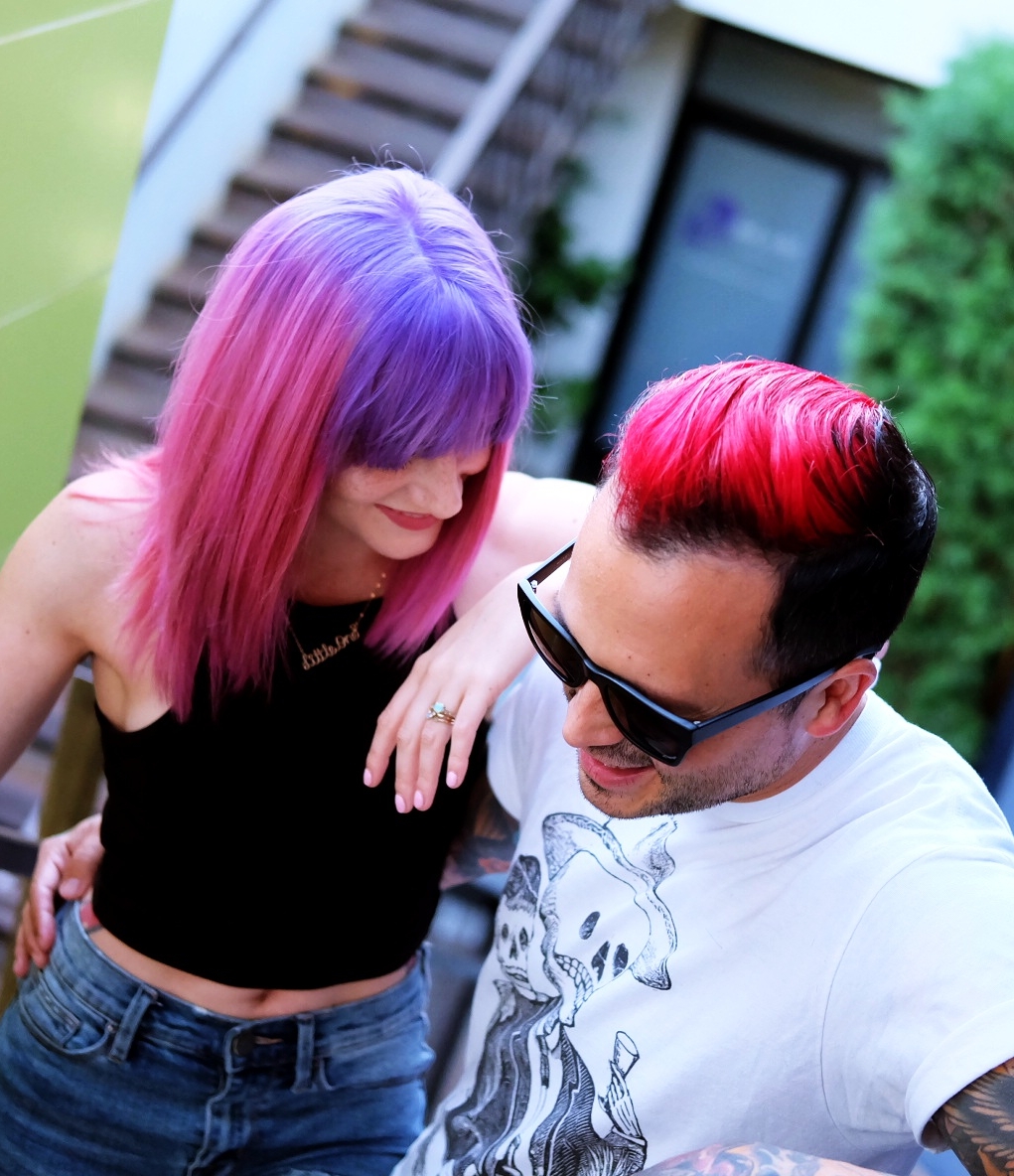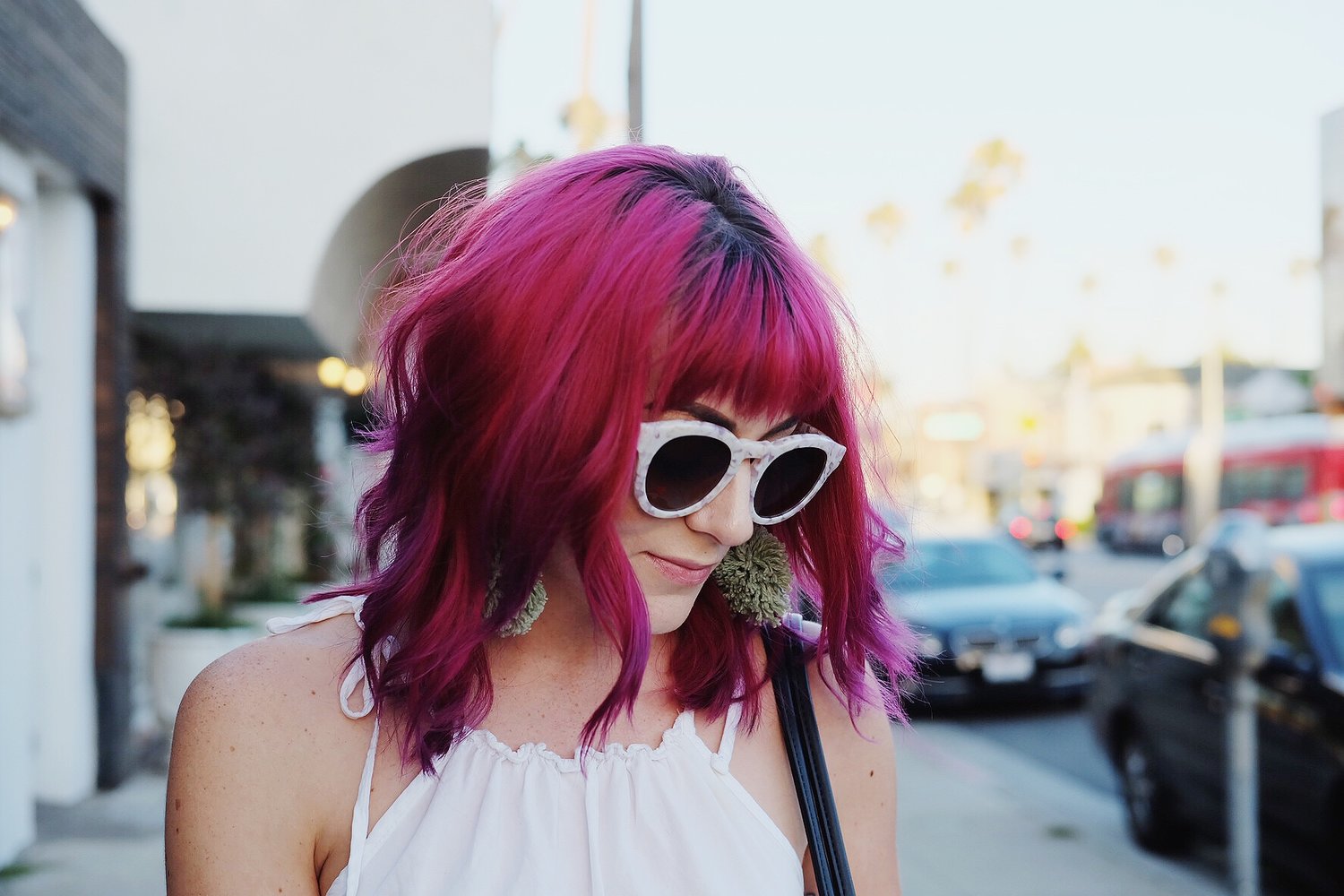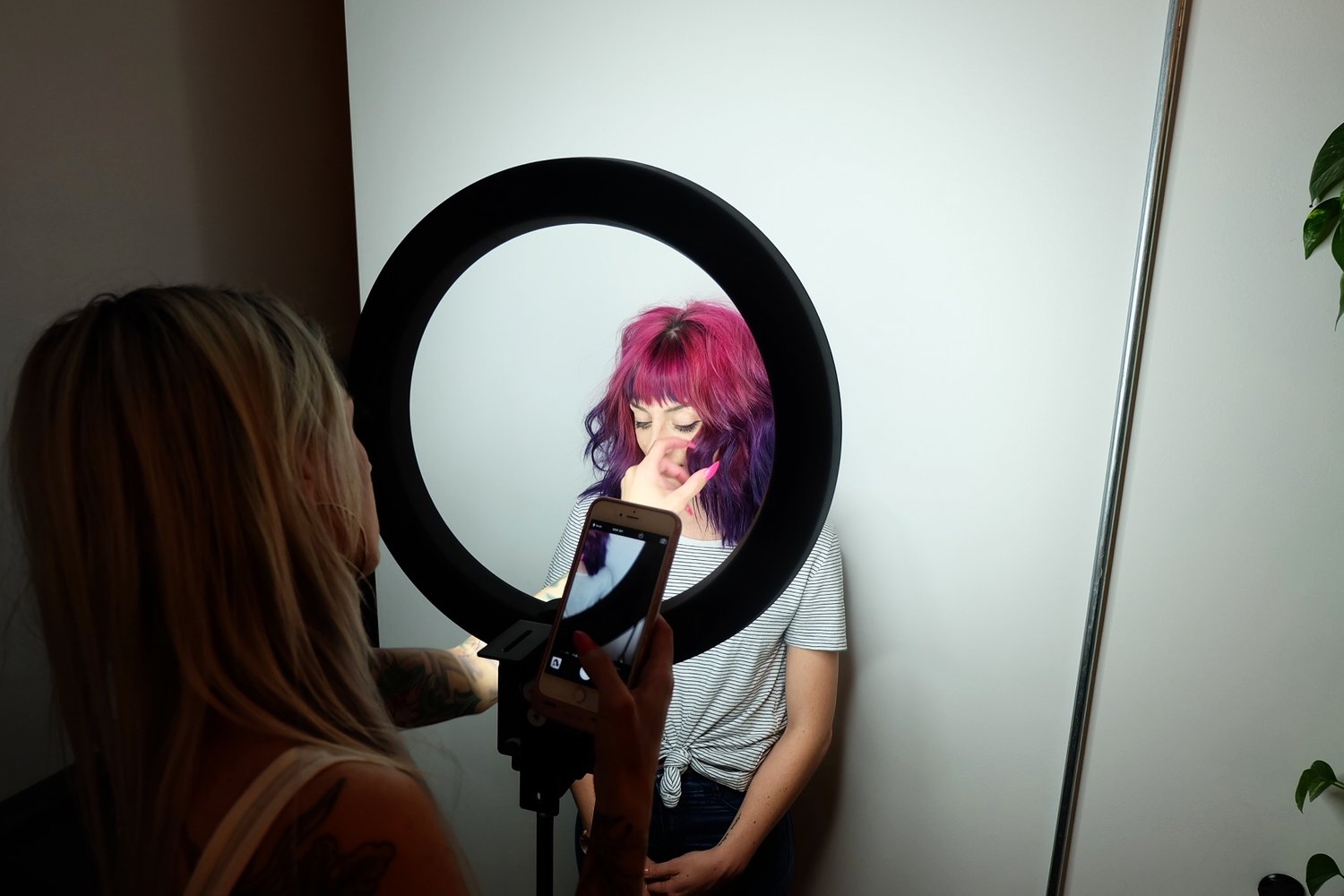 To shop the products we use, or just read more about them, follow the links at the bottom of this page!
Oh and don't forget to give our stylist a follow on Instagram HERE!