"We do."
So you've probably noticed by now if you follow us on social media... but WE GOT MARRIED!
In a private ceremony, on a tiny island in the Pacific, surrounded by only 14 of our closest friends and family - we became Mr. and Mrs. Martin.
♥
Unfortunately, if you weren't there, you probably won't be seeing or hearing much about our special day. We'd like to keep this precious and monumental life event close to our hearts. Thank you all for being so loving and supportive, and respectful of our decision to do so!
With that being said...
We'd really like to share a little bit of our trip with all of you!
Along with a few of our closest and dearest friends, we spend 6 days adventuring all across our island paradise. All of us stayed at the most gorgeous resort - almost too beautiful to believe it truly exists. Every day of our stay, we found ourselves in the pool and/or the ocean!
Our first on the activity agenda was to visit the Smith Family Garden Luau. We have zero shame when it comes to "touristing" hard. A few of our friends + Nick had never been anywhere tropical before so we wanted to fully immerse ourselves in the culture/experience! Here are a few photos from the Luau:
Up next was the thing that started this whole island adventure - KAUAI BACKCOUNTRY TUBING! We set out for our tubing excursion bright and early with a group of 9 friends and family members. If you haven't heard of this rad tubing thingy, look it up! The video went viral a while back and it's the reason Nick and I decided we wanted to vacation on Kauai! You basically sit in a tube and drift down an old irrigation canal, traveling through multiple lengthy dark tunnels and often speeding through the twists and turns of the canal. This was absolutely one of the best parts of our trip! Lasting a few hours, and featuring dark tunnels, 3 foot drops, out of control spinning (Nick was unlucky in this department LOL) and Pirates of the Caribbean vibes, we never wanted this wild yet lazy river ride to end!
The day after our wedding, Nick and I decided to go on a solo adventure off into the jungle via kayaking up a river! Though it was a private guided tour, we got to be a bit more daring by venturing off at our own pace. Another early morning well worth waking up for! In the unfamiliar body of a tandem kayak, Nick and I paddled up a vast Wailua river into the depths of the untouched jungle. There we pulled the kayak onto the shore and set out to hike about 4 miles through lush terrain, to the Hidden Waterfall! Our guide (also named Nick) kept us beyond entertained by discussing Stranger Things theories and mysteries of the Upside Down. Nerdy, we know. Once we reached the waterfall, it started to pour but that didn't stop the Mr. and I from jumping into the water! Along our hike, our guide shared information about the plants and wildlife around us - all while we slid around like idiots in the mud, laughing hysterically as we went. It was an phenomenal day with more precious moments and memories we'll remember and look back on fondly for all of our lives. Another activity down, a billion more to go! ;)
You might have guessed by now that we couldn't resist walking on the wild side a bit on our trip to Kauai... We went ZIPLINING! I spent hours and hours researching which company our PARTY OF 12 ... yes, 12 people ... should book with and omg am I so grateful that I did! Koloa Zipline absolutely blew us away. I can't begin to try and put this experience into words - you just have to GO DO IT! The views, the company, the striking landscape; beyond comparison to anything you've ever experienced! All of us screamed and yelled the whole time! A few out of terror and a few out of excitement haha! Some of us even felt brave enough to hang upside-down! ( Lindsey, Justin, my big brother and I - WOOHOO GO US!)
On the last day of our trip, we went on a Snorkel Boat Tour around the island to the Napali Coast. This is just another place that you MUST go and see to truly appreciate and understand the beauty and overwhelming vastness of this coastal landscape. We spotted a ton of dolphins all around us and saw quite a bit of other wildlife, as well! Although the water wasn't clear enough because of the nearby hurricane for us to snorkel at the reef, we did get to drop anchor at another spot and swim about in the ocean for a while. It was a beautiful and relaxing day before all of our long flights home.
Nick and I are so grateful that we could share all of the incredible moments and experiences with our amazing friends. We could never put into words the appreciation we have for all of them doing everything they could to be there for us on our wedding day.
Hope you enjoyed hearing and seeing a bit from our trip! We have SO much in the works right now and we can't wait to let you all in on our secret projects very soon! Leave us some comments below and let us know what you think! Thank you all for your congratulations and well wishes - it all means the world to us.
Much love,
Jenna + Nick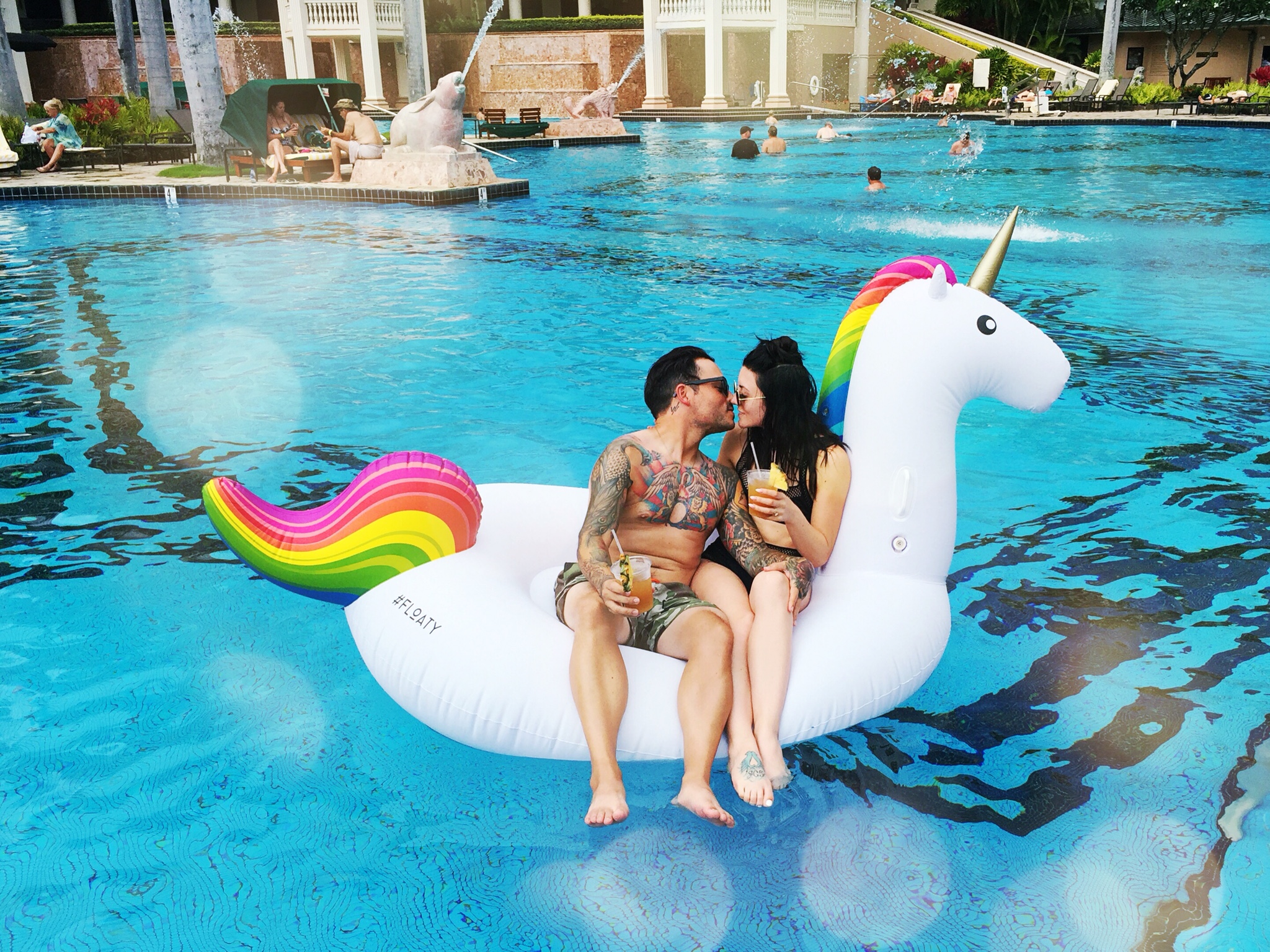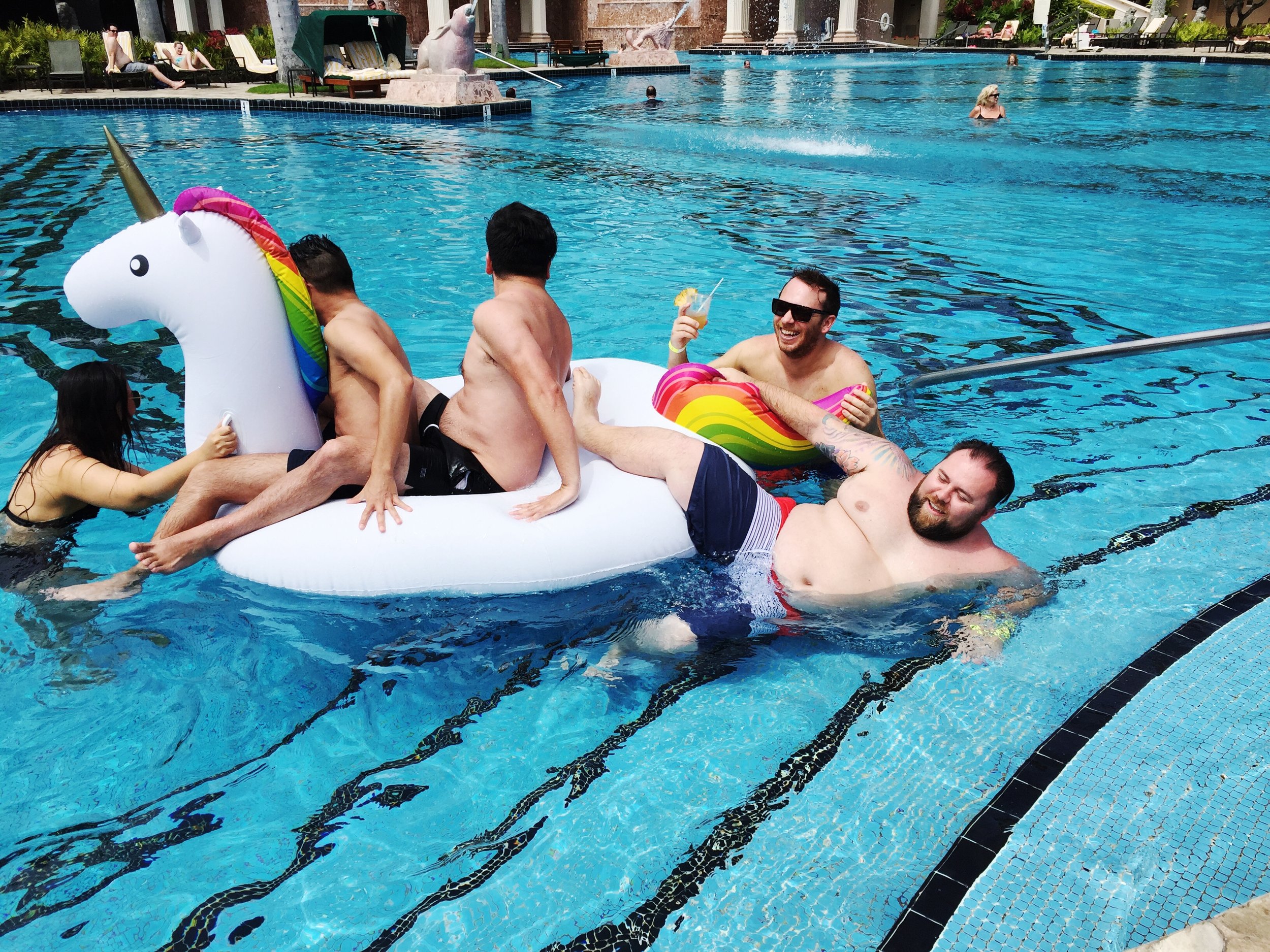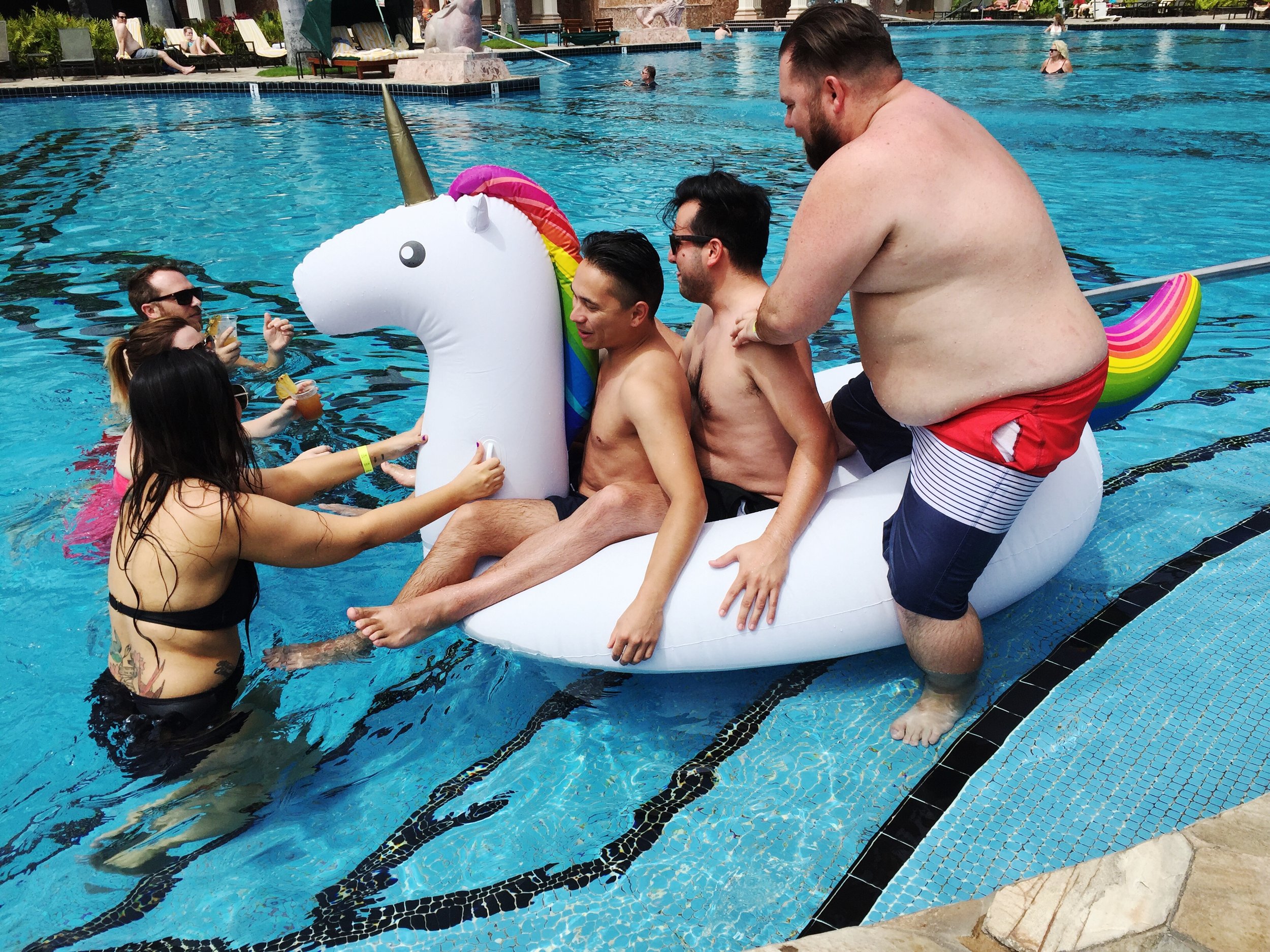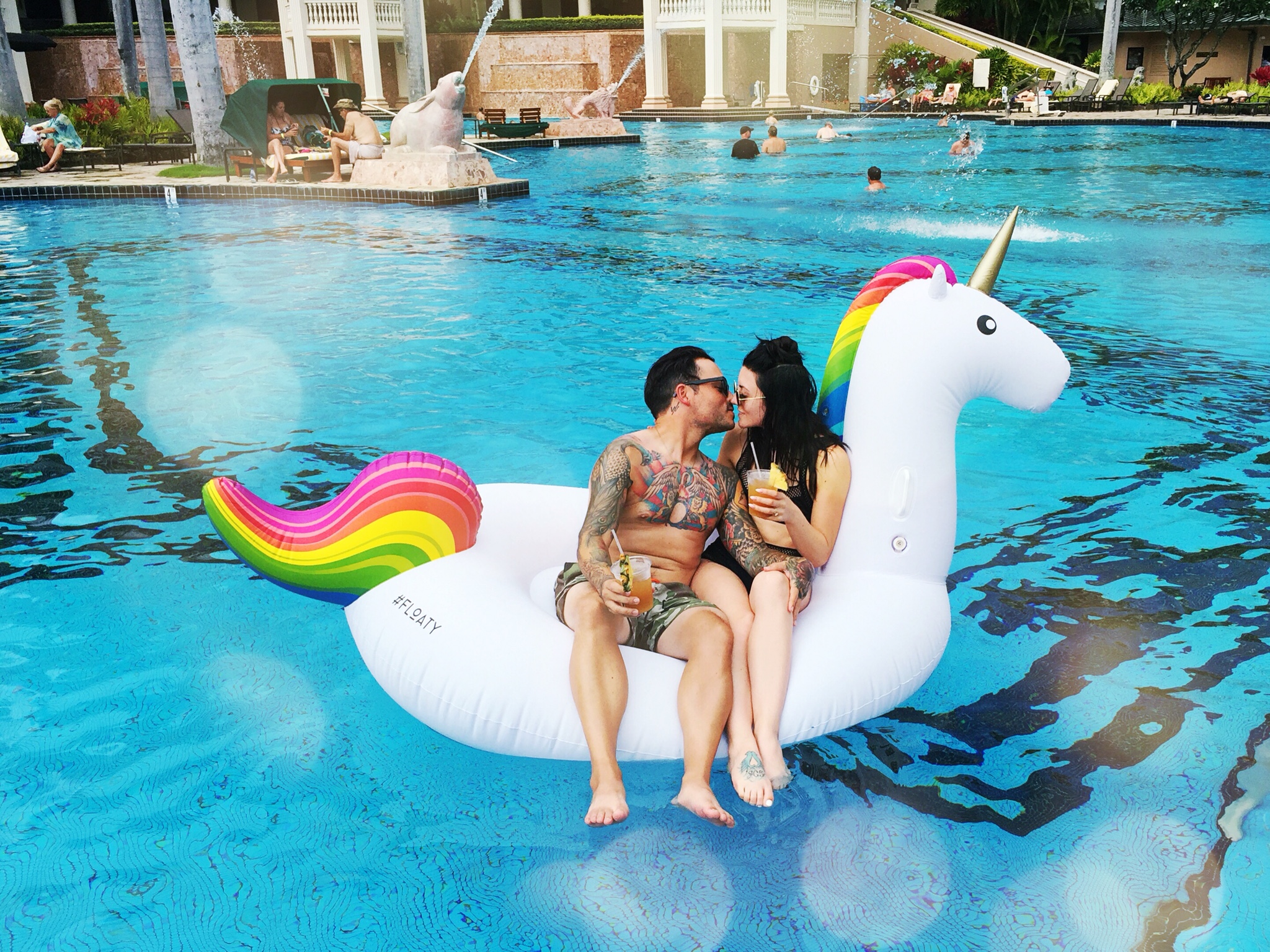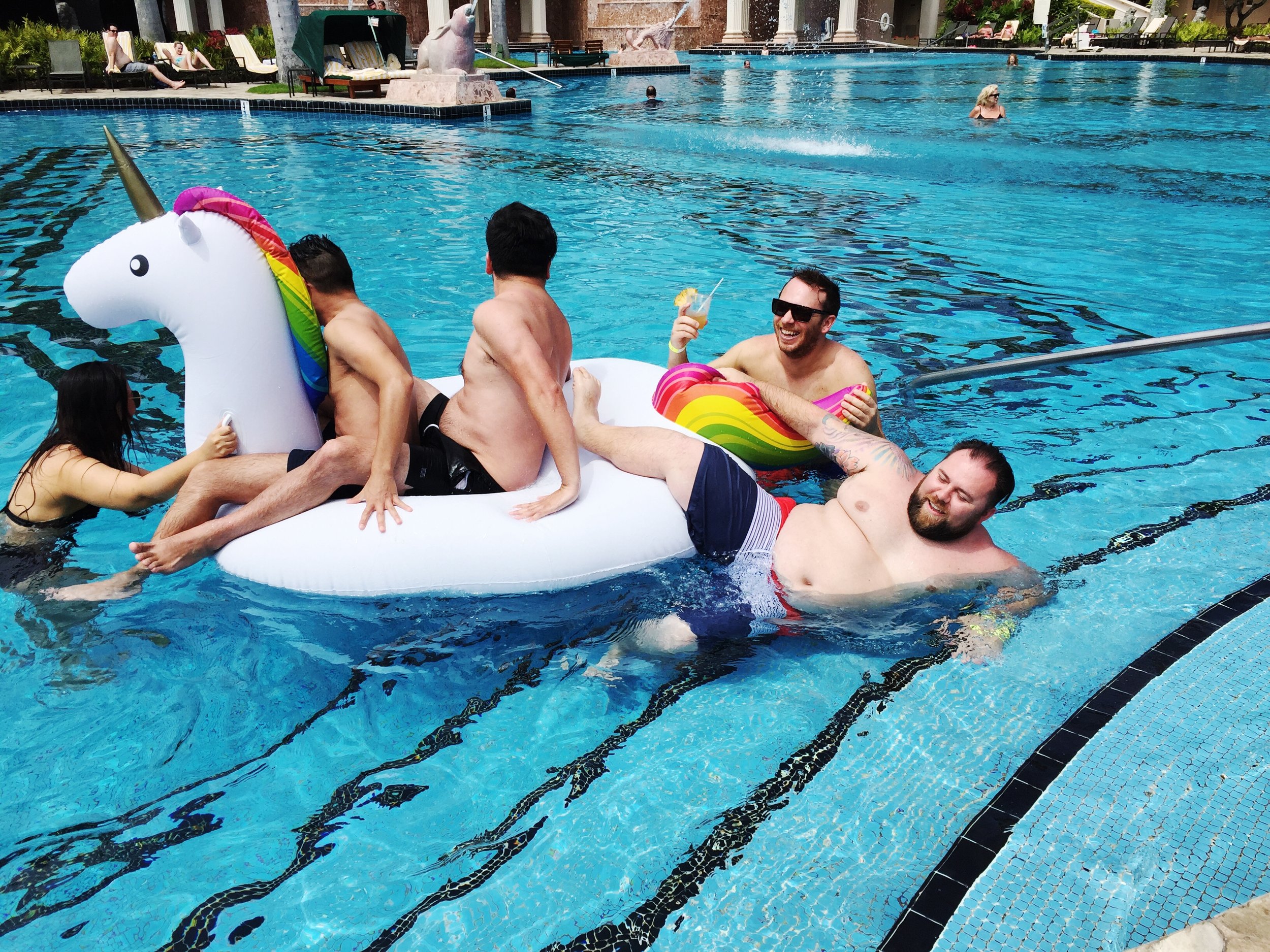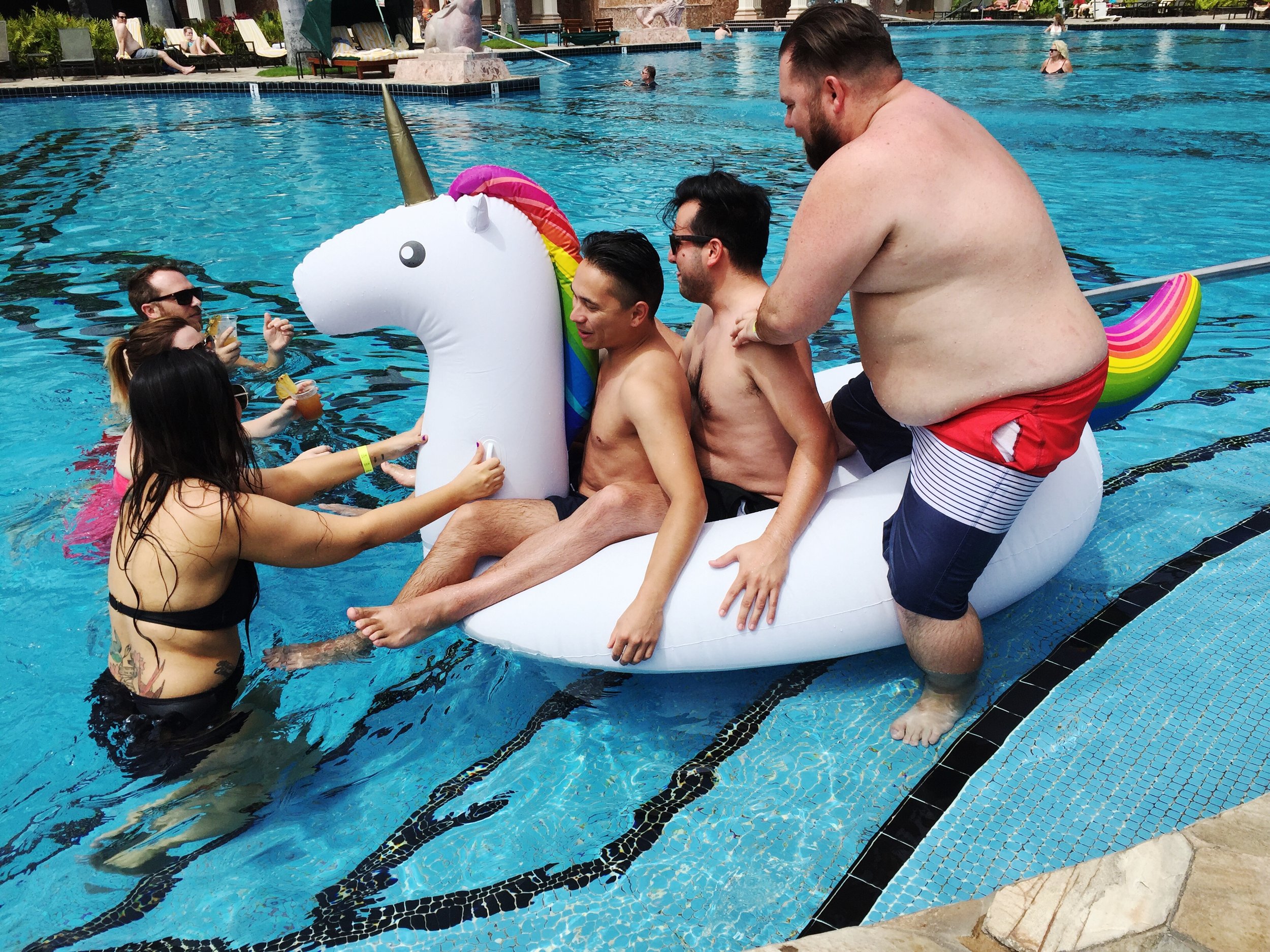 A special thank you to #FLOATY for our beloved Rainbow Unicorn, dubbed "Charlie". He was a star throughout our whole trip and became fast friends with everyone we met. Can't wait to see where he'll vacation with us to next!